25 October – 17 November
Shared Spaces
Vicki Ratcliff
Nita Lewis
Simone Read
Nina Paine
Kate Robinson
Nita Lewis
Nita was born in South Africa and lived there until the age of 16, when she immigrated to Australia. She completed her last two years of school here where she took up art as a subject for the first time. Nita studied Visual Art at City Art Institute for 2 years before completing a Diploma in Graphic Design, then she worked as a Graphic Designer for 7 years before starting a family. In 2009, Nita gained a Certificate IV in Fine Arts at Meadowbank TAFE and has done various commissions over the years. She has continued to paint and draw in her spare time but at the moment, charcoal is her preferred medium.
"I have always drawn since I was quite young and whilst I leaned more towards painting in the latter years, I have found the simplicity of charcoal more appealing, even though the lack of control can at times be as challenging as with painting. Shared Spaces has opened my eyes to the subjects of the natural and manmade environments beyond my four walls, as all my art subjects are generally indoors and of people. With this I have moved beyond my comfort zone and perhaps after this exhibition I might continue to do so, as I have enjoyed the searching and seeing as well as the putting down on paper."
Nina Paine
NINA PAINE is an emerging watercolour artist. Having worked for several years as a graphic designer back in the late 1980s, early '90s, it was many years later, in 2011, when she took up painting under the guidance of northern beaches artist Vicki Ratcliff. Working from her home studio, Nina enjoys painting a variety of subjects, from architectural elements to natural wonders.
Nina's work has no political or dark undertones, rather is to be enjoyed simply for any connection the viewer may feel, be it a shared experience or an inexplicable personal response. As Matisse said, 'What I dream of is an art of balance, of purity and serenity devoid of troubling or depressing subject matter – a soothing, calming influence on the mind, rather like a good armchair which provides relaxation from physical fatigue.'
My contribution to 'Shared Spaces'
Being alone has never bothered me, which is just as well because many of the things I've enjoyed doing over the years have been solitary. That said, I'm certainly aware of how important it is to me that people – family and friends in particular – are never too far away.
When Nita, Vicki, Kate, Simone and I decided on 'Shared Spaces' for the name and theme of our exhibition, my thoughts turned immediately to jetties, wharves and lighthouses. I love these structures, and I suspect it's because there's something solitary about them. They sit on their own, often isolated, and yet there's life all around them, never too far away. We live in shared spaces, our presence and impact always evident in enormously varying degrees, but in this series of paintings there is very little of that presence to be seen.
One of my favourite jetties is at Eucla. It's true that you're standing on the edge of the country when you stand at any point on our coastline, but it was when I stood alongside Eucla Jetty many years ago that I felt, for the first time, I was standing right on Australia's edge. There I was, just a teensy dot on that isolated stretch of coast; isolated but with an enormous country (in fact the rest of the world) right behind me. In a world so heavily populated, it was hard at that moment to imagine seven other people out there, let alone seven billion.
For me the joy of this exhibition, apart from working alongside such lovely and talented friends and artists, is that it has allowed me to combine both the natural and built environments – these shared spaces – in my paintings. I hope they take you away for a moment and allow you to dream a little, because that's what I did as I painted them!
Email: manina@bigpond.com
Website: ninapaine.com
Instagram: @ninapaine
Vicki Ratcliff
Vicki Ratcliff has lived on Sydney's northern beaches for 12 years but grew up on Sydney shores in Clovelly. Her love of the beach, rock pools and local waterways is a current theme in her paintings.
She believes that a dip in the sea puts life in perspective, humbles us with its vastness and beauty and connects us with each other.
Starting her artistic career as a watercolourist Vicki now also works in oils. Her oils maintain that subtle blending of colour so influenced by her watercolour background.
As an exhibiting and award winning member of the Australian Society of Miniature Art, working in miniature has become a more recent passion. Vicki believes that a miniature work can convey all the beauty and power of a larger work of art but have the added appeal of being a particularly personal and intimate object. Plus, she says, she just loves working on such an intricate scale. Using watercolour on synthetic, non- absorbent paper has added some new and exciting dimensions to her work.
Vicki is an active member of the Pittwater Artists Trail and opens her home studio to the public twice a year.
Insta @vicki.ratcliff
Simone Read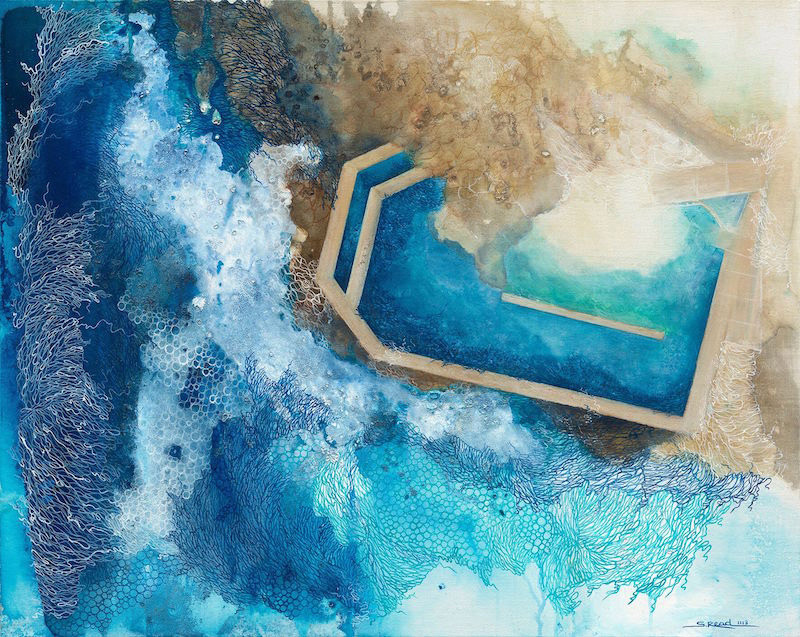 BIOGRAPHY
Based in North West Sydney, Simone Read is an emerging Australian artist and Visual Arts teacher. Simone works with media including watercolour, inks, gouache and salts.
She graduated with a Bachelor of Visual Arts (Illustration and design) from the University of Western Sydney in 1996, Graduate Diploma in Education from the University of New England (2007) and has been a high school Visual Arts teacher and studio artist from 2008.
Through her recent body of work, Simone explores the aerial view of ocean pools around New South Wales. Flipping to a 'birds eye view' creates a sense of calm and peace as she addresses the rhythm and movement of the ocean and the stillness of the pools. A quiet calm is what Simone invites and audience to connect with. The distinct colours used become a meaningful treatment to the way Simone highlights the beauty of our ever- changing environment.

ARTIST STATEMENT
An intense richness of colour, and intricate detail of the vast Australian landscape, is the body of work in which I invite an audience to explore. The aerial view perspective suggests a whimsical journey of exploration, calmness and tranquillity, intuitively created out of my distinctive visualisations that reflect my love for our ever-changing environment.
Highly influenced by Australian artist John Olsen and the deep engagement he has with the landscape, my intention is also to abstract the view from places I have been, endeavour to explore or to translate for somebody else.
The combination of inks, gouache and rock salts are intriguingly used in a free and uncontrolled way; an organic connection to the natural space that I am painting."
Enjoy the view.
Website: www.studio1113.com
Instagram: studio1113.art
Kate Robinson
The northern beaches landscape has been a significant part of my life since I was a child, having spent holidays at Bilgola Beach with my extended family; and in adulthood living for a year at Clareville Beach and then holidaying at Pittwater with family and in-laws.
The small multi-piece ceramic sculptures in the Shared Spaces exhibition are loosely based on the coastal lagoons and their surrounds which we all pass on our travels along the coast between Manly and Narrabeen. These places that trim the edge of the continent and shift from salt to fresh water are shared spaces in many senses. Shared between sea and land, dune and forest, marine life, fauna and people. We live and play in these places. We have built on and around them and tried to contain them. In spite of this, they endure and provide sanctuary.
In Richard Powers 2018 Booker Prize winner, The Overstory, the author writes: 'This is not our world with trees in it. It's a world of trees, where humans have just arrived.' The 'crown' sculptures are celebrations of trees and copses, playing on the ideas of the crowning glory and the power that comes with the crown. The trees are frozen and, in some instances, draped with glaze. I really loved creating these pieces, imprinting them with shapes and textures from tatting that was made by my great grandmother.
There are many writers and philosophers whose interest is in our relationship with the natural spaces we live in; and world views, particularly among first nations peoples, that have a deep sense of this. My aim in all these small sculptures is simply to create a personal expression of being in our shared world.
Kate shares Studio 5 at Kil.n.it Experimental Ceramics Studio, the Nurses' Quarters, 184 Glebe Point Road, Glebe, NSW, 2037
Insta @kate_robi, @kil.n.it