The Nature of Things
27 February to 14 March 2021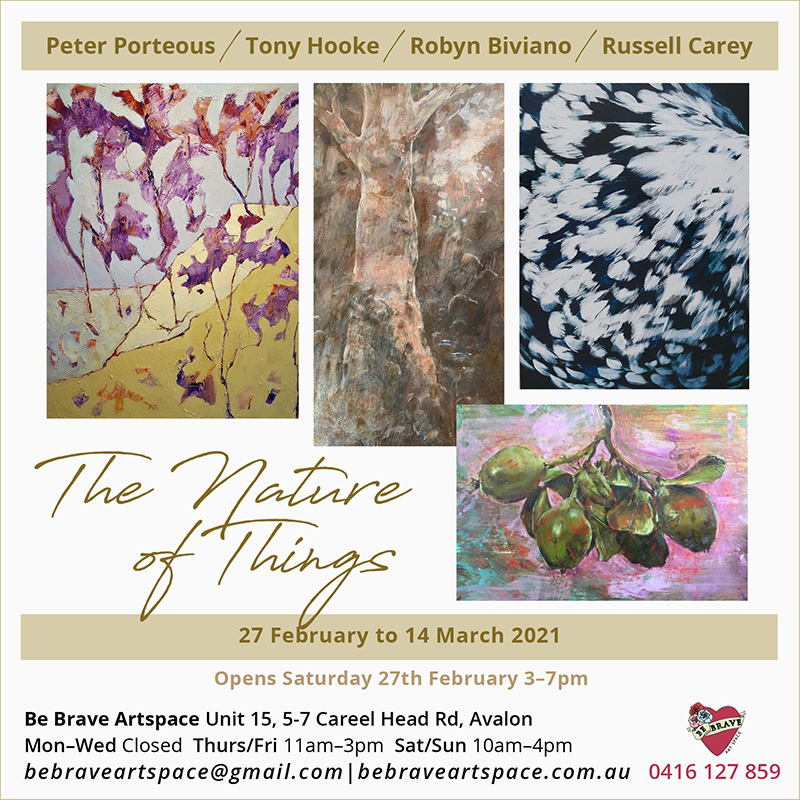 A wonderful exhibition by four incredible artists who come together to explore the nature of things.
Peter Porteous
Peter was born in Sydney and has lived there for most of his life. He is a full-time artist and writer. He has been a soldier and educator and is now a casual academic with a Sydney university.
Peter attended Meadowbank TAFE graduating with majors in painting and drawing. His teachers were Jocelyn Maughan, Robin Norling and Michael Kempson.
His work includes figure studies in pencil and crayon. His major works are landscapes and figurative works in oils and acrylics. Peter has drawn from his extensive travels and varied life experiences to shape his work and has exhibited widely in Australia. His work is in collections in Australia, Europe and the United States.
Peter's use of negative space and the dissonance of his line work draws the viewer into his conversation about the Australian landscape. In his lyrical deconstruction of those uniquely Australian forms he attempts to develop a deeper understanding of the mystical and spiritual objects found in the bush. His use of colour compliments the elemental shapes found on his canvases and places him in the great tradition of Australian abstract expressionists.
Tony Hooke
These works are largely based on my wanderings around an area of bushland north of Goulburn where I established a studio a few years ago.
A particular focus has been the Turrallo Creek and its path through the surrounding tussock flats and woodlands.
The works reflect an ongoing fascination with the landscape under low light as it accentuates its abstract qualities and creates a heightened sense of mystery.
The romance of the waterhole, a jewel in the landscape, is a recurring theme.
The medium used is egg tempera.
The concept of making my own paint as required for each work with a natural binder, such as egg yolk, and mostly naturally occurring pigments is a satisfying one.
It seems right that many of the pigments used in these works are soil derived.
Other examples of my work can be found on my web site www.tonyhooke.com.au
Robyn Biviano
Visit all of Robyn's work here
Robyn studied at the College of Fine Arts, University of NSW and has a Bachelor in Art Education.
As an artist who loves the immediacy of drawing with charcoal, the group of works exhibited in "The Nature of Things" came from a change in direction prompted by the disruption of 2020.
Change to routine meant that there was time to experiment with new ways of drawing. The search for new ways to make marks led to using claybord and scratching lines through glazed layers of acrylic paint for tonal variation. Repetition of line is also explored using acrylic paint pens over painted layers in the floral works. Enjoying fluid lines and looking for the negative space.
The subject matter comes purely from the backyard because as many of us have experienced this year, we had to get very familiar with our immediate surroundings. These include chickens, moths and flowers, all looked at with a slow, studying eye.
Robyn has been a finalist in the Hornsby Art Prize (Highly Commended 2017), Hunters Hill Art Prize and won the Hornsby Art Society Figurative Prize in 2016.
Robyn currently runs Art classes for children after school, gives private classes in her studio, coordinates Epping Life Drawing Group and wrangles her own 3 high school aged children.
Visit Robyn's Instagram page here
Russell Carey
Visit all of Russell's work here

With this latest body of work I have moved away from my usual, slightly disturbed figurative images to experiment with some new materials and the well worn genre of flower painting.
The positives from Covid, especially for artists has been an opportunity to pause, evaluate, take stock and contemplate future directions.
Let's hope those with more power and influence are doing likewise.
Education and Experience
1990-present Scenic artist, Scenografic Studio, Sydney
2010-present Contributing artist/designer, Simcox Design
1998-2001 Tutor in Scenic Art National Institute of Dramatic Art (NIDA), Sydney
1990 Artist in Residence, Cobblestone, Dublin
1988 Artist in Residence, Barunga, NT
1986-1990 Trainee-Scenic Art with Opera Australia and Rod Clarke, Scenografic Studio, Sydney
1983-1986 Diploma in Fine Art (Painting, Photography and Printmaking), National Artschool, Sydney
1983 Trainee-Screenprinting with Michael Callahan, Redback Graphics
1983 Certificate Photography, Jalapa, Vera Cruz, Mexico
1978-1982 Trade certificate in signwriting, Sydney